Shadow Hunters are enemies in Smash Bros. Clash's Story Mode.  They can only be found in
The Dark Portal
. They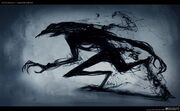 like to lurk in dark areas. They appear in very large swarms, which can completely cover and consume the player within a short time. They swarm over and destroy anything different than themselves and are spawned by corruption.
Ad blocker interference detected!
Wikia is a free-to-use site that makes money from advertising. We have a modified experience for viewers using ad blockers

Wikia is not accessible if you've made further modifications. Remove the custom ad blocker rule(s) and the page will load as expected.