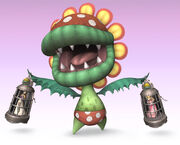 Petey Piranha is a Boss for Smash Bros. Clash. His battle theme is the Primagen's Battle theme from Turok: Seeds of Evil. He is revived by GigaDeath, the Chaos King. His roars are exactly like the following monsters, 2005 King Kong, Nefarian, and Jurassic Park's Tyrannosaurus. He uses 2 steel cages to attack the player. In Adventure Mode, he traps 2 princesses, Peach and Zelda. It's your job to free BOTH princess on a time scale. Pikachu and Rolly Roll confront him.
Ad blocker interference detected!
Wikia is a free-to-use site that makes money from advertising. We have a modified experience for viewers using ad blockers

Wikia is not accessible if you've made further modifications. Remove the custom ad blocker rule(s) and the page will load as expected.